One of the weirdest phone calls
I received in my temporary career as a city manager was a distraught golfer. It was late on a lazy Sunday afternoon in April. "I am so mad at you," the caller complained. "A man had a heart attack on the sixteenth fairway of the city golf course, and it stopped play for 45 minutes."
"Sir," I responded, "do you know that the man died?"
"That's my point. If he had been declared a fairway hazard, we could have played around him. He was dead!"
On the surface, golf looks like a lot of time. There you are in a picturesque setting with your best friends enjoying the whimsical pleasure of knocking a little white ball into a hole with a colorful flag sticking out of it. Below the surface, however, golf is a game that tests one's patience, emotional equilibrium, inner strength, and ethical core. Such tests tend to reveal serious and profound personal flaws. That is the dark side of golf. Watching someone confronting his own weaknesses and inadequacies in public with a club in his hands is often not a pretty sight.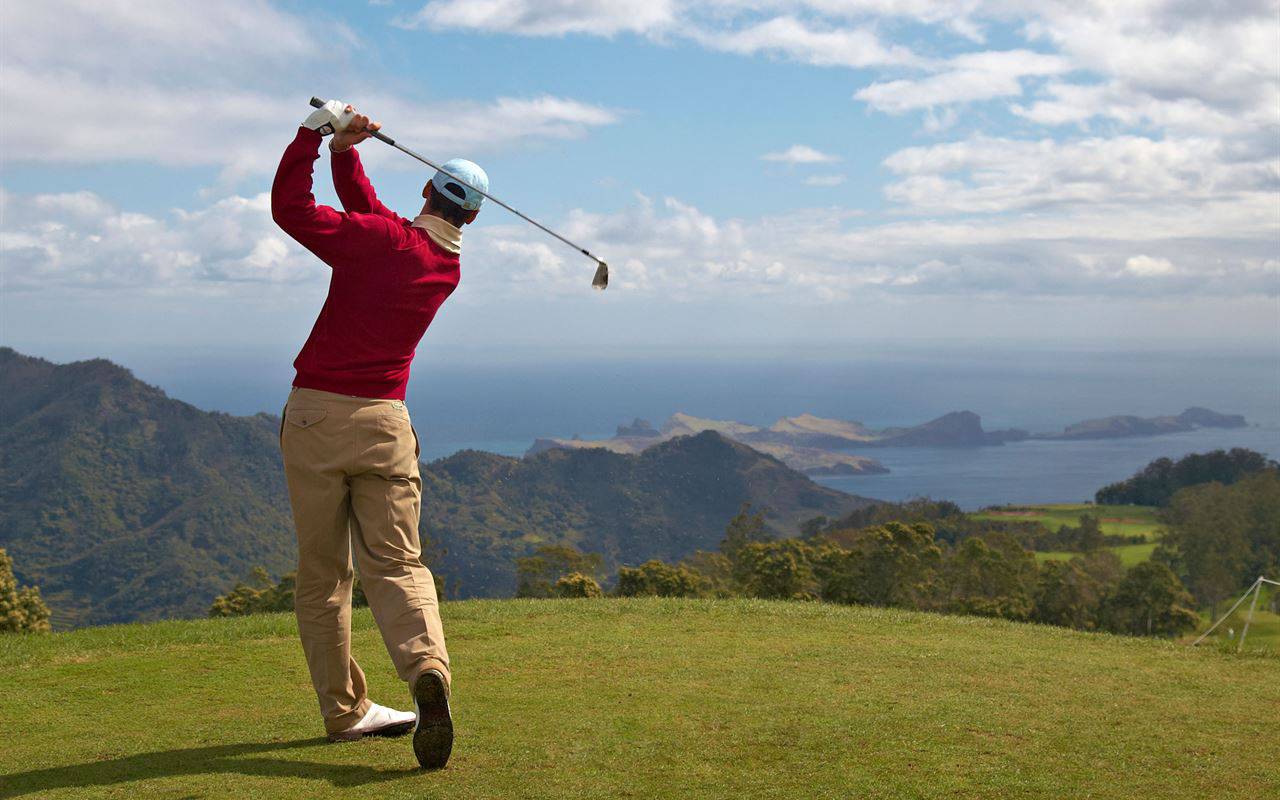 The maddening aspect of golf is that to be successful you have to master a sequence of difficult swing techniques, and, oh, by the way, unless you relax they will never work. It's virtually impossible to relax when you are trying to remember to keep your head down, your club low to the ground, your eyes on the ball, your hips rotating at a 35-degree angle, your left forearm straight, and your backswing unhurried. The failure to relax while attempting to swing a golf club leads directly to severe dysfunction, and that inevitably creates a sense of personal failure that will slowly but surely evolve into the deep torpor of clinical depression. Pretty soon you're complaining that dead golfers haven't been declared fairway hazards.
A golfer's journey into the heart of darkness has many way stations and rest stops. The first is equipment. There's a good chance that the beginning golfer went to a secondhand store to buy his clubs. The temptation for him or her is great, therefore, to attribute early ineptitude to inferior equipment. This is an expensive excuse. A good set of new golf clubs can cost well over $1,000. When a titanium driver, a perimeter-weighted five iron, and a state-of-the-art putter flail to produce respectable scores, our hapless duffer concludes that he needs professional instruction. This can be expensive. Oh, well; in for a penny, in for a pound. Lessons can be productive early on, but, inevitably, bad habits creep back in when the lessons stop.
Now our golfer gets very desperate. He would really like to throw his clubs into the nearest water hazard and walk away from the game forever, but he can't because he has too much money invested in this folly. His next stop is the public library. It's cheaper than signing up for more lessons. Here he finds a whole universe of books at 796.352, the Dewey decimal number for golf instruction. If there is a famous golfer or golf instructor who has not written a book on how to hit a golf ball, I don't know his name. The problem is that every golf writer has the ultimate theory of success, but every theory is different. This leads to confusion, and a confused golfer is a dysfunctional golfer.
John Daly tells you to "grip it and rip it." Johnny Miller says to hold the club very loosely and to swing with only about 85 percent of your strength. Gary Player says to lift your right heel off the ground. Billy Caspar tells you to keep your feet firmly planted. Ben Hogan says to hit the ball with your left hand. Tommy Armour tells you to whack it with your right. What's a golfer to do?
Maybe that's why the new trend in golf self-help books puts less emphasis on the mechanical aspects of your swing and pays more attention to the mental, psychological, and spiritual nuances of the game. For instance, Deepak Chopra, the pop-spiritual guru who has written a whole host of self-help books on how to find God, has written a book entitled Golf for Enlightenment. The Seven Lessons for the Game of Life. The book is filled with little aphorisms that seem to say everything but ultimately mean nothing. Here are five examples: "Let the swing happen." "The ball knows everything." "Find the now and you'll find the shot." "Play from your heart to the hole." "Let the gameplay you." Could someone please tell me how nonsense like this gets published? John Daly's little aphorism, "Grip it and rip it," makes a lot more sense to me. I took up golf to have a fire, not to find God. For that reason, I'd much rather be in a foursome with John Daly than Deepak Chopra.
My point is that if you do get bitten by the golf bug and end up trying to find your swing in the 796.352s, don't bother. But while you're there, check out John Daly's two golf books: My Life In and Out of the Rough: The Truth Behind All That Bull… You Think You Know about Me and Golf My Own Damn Way: A Real Guy's Guide to Chopping 10 Strokes Off Your Score. They probably won't improve your game, and they definitely won't help you find God, but they will put a smile on your face, and isn't that the point?
Will Manley, former library director, former city manager, is now a full-time library patron and part-time golfer.